FACELIFT IN DER NOAHKLINIK KASSEL
20 JAHRE ERFAHRUNG MIT FACELIFT & GESICHTSSTRAFFUNGEN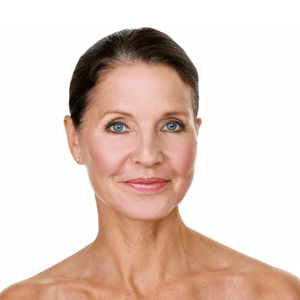 Die Haut verliert mit zunehmendem Alter an Elastizität. Die Spannung der Muskulatur des Gesichtes lässt nach, der Alterungsprozess zeigt sich – sowohl im Gesicht als auch am Hals. Neuere Forschungsergebnisse zeigten auf, dass Altern auch mit einer Veränderung der Fettverteilung im Gesicht einhergeht. Diese Auswirkungen des Alterungsprozesses lassen sich durch eine operative Straffung der Haut, des Unterhautbinde- und Fettgewebes sowie der Halsmuskulatur in der Regel sichtbar verbessern. Das Gesicht sieht nach dem Eingriff natürlich frisch und nicht maskenhaft aus.
WARUM ZUM FACELIFT ZUR NOAHKLINIK KASSEL?
Prof. Noah war bereits Präsident der Vereinigung der Deutschen Ästhetisch-Plastischen Chirurgen (VDÄPC)
Überdurchschnittliche Erfahrung und hohe Patientenzufriedenheit
Included several times in the Focus list of medical experts
25 years of experience as a plastic aesthetic surgeon
50+ Facelifts pro Jahr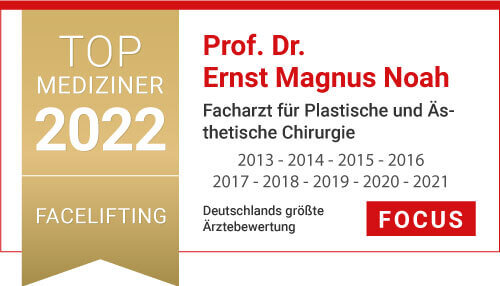 Your specialist for plastic and aesthetic surgery
Prof. Dr. med. Ernst Magnus Noah ist Facharzt für Plastische und Ästhetische Chirurgie in Kassel. Bevor Prof. Dr. Noah sich in seiner eigenen Praxis niedergelassen hat, war er für viele Jahre Chefarzt einer Klinikabteilung für Plastische, Rekonstruktive und Ästhetische Chirurgie.
Er ist Spezialist für Behandlungen im Gesicht wie zum Beispiel für Facelifting, Augenlidstraffung und Faltenbehandlung. Nutzen Sie sein umfangreiches Wissen und seine jahrelange Erfahrung.
FACELIFTING: WIE LÄUFT DIE GESICHTSSTRAFFUNG AB?
Beim Facelift, besonders dem SMAS-Lift, können sichere und lang anhaltende Ergebnisse erzielt werden. Dabei ist es wichtig, dass nicht die Haut, sondern das Binde- und Fettgewebe die verjüngte Form hält. Bei einem SMAS-Lift werden Muskeln, Binde- und Fettgewebe angehoben und neu geformt. Dieses SMAS-Lift mit Fettneuverteilung ermöglicht die Langzeitergebnisse. Die Haut alleine, welche in so genannten Wochenendfacelifts korrigiert wird, gibt schnell wieder nach.
Die Hautstraffung wird unter Vollnarkose durchgeführt. Die kleinen Narben verschwinden in den Haaren. In den ersten Tagen nach der Operation sollten Sie Ihren Kopf ruhig halten, um die Schwellung zu minimieren. Sport sowie schwere körperliche Tätigkeit sind nach ca. sechs Wochen wieder möglich.
| | |
| --- | --- |
| Treatment: | stationary |
| Surgery duration: | 4 - 6 Stunden |
FACELIFT IM STIRNBEREICH – HILFE BEI LÄSTIGEN QUERFÄLTCHEN
Ein Zeichen des Alterungsprozesses ist es, wenn auf der Stirn die ersten Querfältchen erscheinen, die Oberlider schwerer werden und sich Krähenfüßchen andeuten. Das Gesicht wirkt leicht müde, der Blick traurig. Ein Facelift, das nur die Stirn korrigiert, kann dieses Problem beheben.
Beim Stirnlifting bieten sich zwei Methoden an: Das endoskopische und das klassische Forehead lift. Die endoskopische Operation hat den Vorteil, dass hierbei Wert auf verdeckte und praktisch unsichtbare Schnittführung gelegt wird. Durch winzige Hautschnitte im behaarten Bereich werden die Brauen angehoben und die Muskulatur zwischen den Augen geschwächt. Mimische Falten, insbesondere die Zornesfalten, werden geglättet.
Bei fortgeschrittenem Alterungsprozess mit Erschlaffung der Haut und tiefen Stirnfalten empfiehlt sich das klassische Stirnlift. Hierbei wird mit entsprechenden Hautschnitten im Bereich der Haaransatzlinie gearbeitet. Dank unserer Erfahrung erzielen wir beim Stirnlift eine "unsichtbare Narbenbildung", so dass selbst bei einem Rückgang des Stirnhaares oder beim Tragen einer Kurzhaarfrisur die Narbe kaum sichtbar ist. Der Eingriff des Stirnlifts erfolgt unter Vollnarkose oder Dämmerschlaf, der stationäre Aufenthalt dauert einen Tag. Schwellungen klingen meistens innerhalb einer Woche ab, die Haare können nach 3 Tagen bereits wieder gewaschen werden.
Übrigens: Ein Stirnlift kann Migräne-Attacken reduzieren. Der Grund: Stark entwickelte Muskeln im Stirnbereich können Nerven bedrängen und dadurch Schmerzen auslösen. Eine gezielte Schwächung dieser Muskeln kann Studien zufolge die Symptomatik lindern.
MIT EINEM LIFTING FALTEN AN GESICHT, HALS UND AUGENBRAUEN ENTFERNEN
In manchen Fällen ist es sinnvoll, das Facelift mit einer Halsstraffung zu kombinieren. Denn die Erschlaffung des Halses ist leider eine besonders augenfällige Altersfolge. Auch bei sonst wenig vom Alter gezeichneten Gesichtern wirken die Halspartie und die Halsfalte kraftlos und unschön. In diesem Fall kann auch eine alleinige Halsstraffung Hilfe bieten. Mit modernen Operationsverfahren ist es möglich, kaum sichtbare Narben zu hinterlassen.
Auch an den Augenbrauen kann sich der Alterungsprozess zeigen. Abhilfe schafft ein Augenbrauenlifting, dass wir in unserer Klinik in Kassel bei schlaffen oder abgesunkenen Lidern und bei Falten rund um die Brauen durchführen.
Think about the follow-up cost insurance!
Bei eventuellen Komplikationen können Sie die Krankenkassen an den Folgekosten beteiligen (§52 Social Code). Daher ist es ratsam, eine Folgekostenversicherung abzuschließen. Gerne berät Sie Prof. Noah dazu.
Wir freuen uns auf Ihren Besuch!