Breast augmentation in Kassel using autologous fat and implants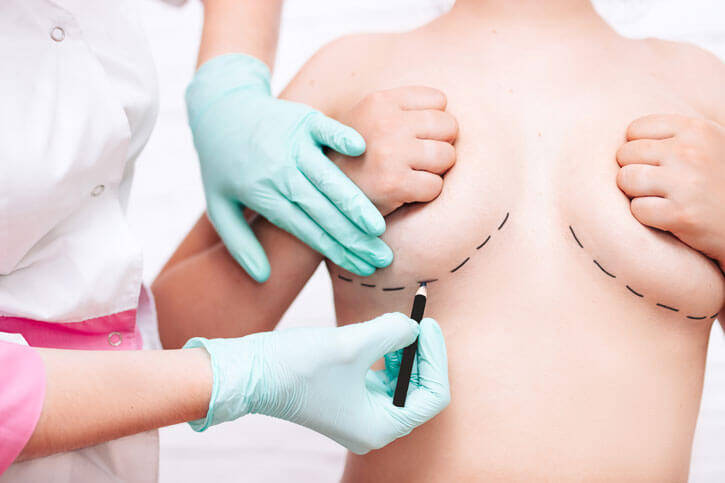 A female breast provides a feminine silhouette and is a sign of femininity. This is why women with smaller breasts often feel less attractive - their psychological well-being and self-esteem suffer. The situation is similar for transgender women. This is because hormone therapy alone only ensures small breast growth. Creams, massages, gymnastics and the like unfortunately do not ensure larger breasts in the long run; essentially, only a surgical breast enlargement helps here.
In addition to women who have small breasts at home or a Breast malformation breast augmentation is also suitable for women who suffer from sagging breasts after pregnancy or after breastfeeding.
As part of the aesthetic plastic surgery at the Noahklinik Kassel, we offer you two different approaches for your breast augmentation.
Breast Augmentation Facts
Treatment type:
Inpatient or outpatient
Surgery duration:
1 - 2 hours
Anaesthesia:
General anaesthesia
Minimum age:
18 years
Costs:
individual
depending on the findings
Your specialist for plastic and aesthetic surgery for your breast augmentation
Prof. Ernst Magnus Noah, MD is a specialist in plastic and aesthetic surgery in Kassel. Before setting up his own practice, Prof. Dr. Noah was the head physician of a clinic department for plastic, reconstructive and aesthetic surgery for many years.
Due to his extensive experience, he is a specialist in breast surgery such as breast lift or breast augmentation. Use his experience and skills for your breast correction.
Why go to the Noah Clinic in Kassel?
Prof. Dr. Noah was President of the Association of German Aesthetic Plastic Surgeons (VDÄPC)
Above-average experience and high patient satisfaction in breast surgery
Included several times in the Focus list of medical experts
25 years of experience as a plastic aesthetic surgeon
Testimonials from patients
Breast augmentation with implants
Breast implants usually consist of a silicone cushion that is inserted into the breast by the doctor during an operation. At the Noah Clinic, we are always up to date with the latest scientific developments and pioneers in the field of modern implant technology. There are very different incision techniques. For example, a breast implant can be inserted through the under-breast fold, through the armpit or in the area of the nipple. The patient is usually under general anaesthesia during the operation.
Which incision is the right one depends, among other things, on the shape of your implants and whether the breast implant should be placed above or below the breast muscle. We cannot make a general recommendation at this point, because different factors go into the decision. These include your wishes as our patient, of course, but also the physical conditions. An innovative and good alternative is the insertion under the fascia of the pectoral muscle. Our specialist for aesthetic and plastic surgery, Prof. Dr. Ernst Magnus Noah, will be happy to advise you individually on the subject of breast augmentation.
Round or teardrop-shaped - which breast implant is the right one?
The implants used at the Noahklinik Kassel are all textured. This means that they have a roughened surface. This significantly reduces the risk of capsular fibrosis after breast augmentation. Round implants give more volume to the upper part of the breast and conjure up a full décolleté. Drop-shaped, anatomical implants, on the other hand, emphasise the lower area of the breast and the nipple. Many patients want larger breasts that do not look artificial. However, round and teardrop-shaped breast implants do not behave like natural breast tissue in every position.
The latest generation of implants consists of a soft texture that comes very close to the feel and look of the natural breast and adapts to the movements of the body. Here, the decision whether round or teardrop-shaped is no longer necessary. There are also implants (B-LITE) - these are much lighter than conventional silicone cushions. So on the one hand you get a feminine breast, but on the other hand you don't have to fear that the extra weight will put a lot of strain on the connective tissue.
This ensures that the new breast remains firm even years later and does not sag because the implants are too heavy. In most cases, the expected result of the operation is simulated in advance. For example, 3D computer programmes are used to digitally "try on" different breast implants. In this way, our patients can get an idea of their new breasts and make the right choice for them. We can also give you an impression of your options with the help of before and after pictures.
Realistic 3D simulation for breast surgery
Breast augmentation: safety first!
Internationally, adherence to 14 points has become established in breast augmentation surgery. Prof. Noah was one of the first doctors to commit to these safety measures. The so-called 14-point plan focuses in particular on the safety of patients and provides concrete guidelines for working as hygienically as possible during the insertion of implants.
These include antibiotic prophylaxis shortly before the procedure, but also nipple protection and the recommendation not to place drains, as these can be an entry point for bacteria. Adherence to the 14-point plan reduces the risk of inflammation in the area of the implant as well as the risk of capsular fibrosis. We will be happy to present the details to you in our clinic.
Breast augmentation with own fat in Kassel
The Alternative to breast augmentation with implants is the insertion of autologous fat. Moderate enlargements are possible here. A new pregnancy or breastfeeding is usually not a problem after this procedure. During the operation we first remove some of the patient's own fat - for example in the hip area or on the abdomen. We use tissue-conserving procedures for this.
The removed fat cells are then purified and can then be injected into the breast. The procedure is usually performed under twilight sleep, but can also be performed under general anaesthesia without any problems and takes about 2 to 3 hours.
Risks and complications of breast augmentation

There is no operation without risk or the danger of complications. In principle, other disorders can occur in addition to the normal side effects of an operation. In the course of your preliminary examination and explanation of the operation, you will be informed about all individual risks and possible complications. Below you will receive some information in advance so that you can get a brief overview.
With a Breast augmentation with implant the following complications can arise after the operation:
Occurring wound healing disorders
Development of capsular fibrosis
Bottoming Out
Rippling
Ageing process or damage to the implant (e.g. due to an accident, etc.)
Possible sagging of the breast
BIA ALCL
BLL
The silicone implants used in plastic surgery are now very safe. If, in rare cases, a tear does occur in the surface, the gel contained in the implant will not leak out - an operation is nevertheless unavoidable. If you suspect damage to the implant, please contact your aesthetic surgeon Prof. Noah immediately.
With a Breast augmentation through autologous fat grafting the following complications can arise after the operation:
Fat cells do not grow
Development of inflammation
Depending on the method used, formation of oil cysts
Depending on the desire for change, several sessions may be necessary
etc.
Aftercare of a breast enlargement
The right behaviour helps the healing process. Immediately after the operation you may experience pain - for this you will receive appropriate medication from your plastic surgeon.
You should avoid direct sunlight for the first few weeks after the operation.
After the operation for Breast augmentation with implants you will be given a type of sports bra (called a compression bra) to support the new breast. You should wear this bra consistently for six weeks during the follow-up treatment so that both body and tissue can get used to the new weight and the seams are not under excessive tension. Avoid sport and heavy exertion. Scars usually heal without complications and are then hardly visible.
Even with a Breast augmentation using autologous fat Aftercare is important. A firm sports bra, but not too tight, is a must for the weeks after the operation. In addition, the doctor will usually prescribe compression garments for the area where the liposuction was performed. Swelling, bruising and haematomas may occur here after the treatment. However, these usually disappear after a few days. Rest is also essential here. Avoid strenuous sports for about six weeks.
The final result of this treatment only becomes apparent after several months. Because then the treating doctor can check how many of the fat cells have grown and whether another breast augmentation makes sense. We will be happy to explain your individual possible complications and your individual procedure.

Which is better - breast surgery with autologous fat or implants?
Whether augmentation with implants or with your own fat makes more sense depends on the change you want. Both methods have their advantages but also disadvantages. Therefore, it must be checked in each individual case which option is best for you.
The basis for performing a breast augmentation with autologous fat is sufficient fat in the extraction region. The amount needed for the desired change in the breast is suctioned from elsewhere (usually from the hips, flanks, abdomen or legs). The areas that react least to weight fluctuations are particularly suitable, as these cells will later show up most consistently in the breast. If there is not enough fat here, the variant using fat grafting is not feasible.
Costs of a breast enlargement at the Noahklinik Kassel

The Costs for breast enlargement with implants start at about 5800 Euros (plus VAT), breast augmentation with autologous fat starts at 5000 Euros (plus VAT). These prices are an approximate guide and include all additional costs.
The exact price of your breast surgery depends on your personal physical and health conditions, your desired change and the resulting surgery effort (for example, required surgery duration, surgery method, implants, etc.).
We have many years of experience with female breast surgery. Our specialist Professor Dr. Noah will be happy to advise you individually in a personal consultation on your optimal shape of implant, autologous fat treatments, breast surgery procedure, your expected course of healing, anaesthesia, healing process and all costs incurred. We will also discuss all common questions with you.
Subsequent costs insurance
Please note that if you have any complications, the health insurance companies may share in the costs incurred (§52 Social Code). It is therefore strongly advisable to take out consequential loss insurance.
What requirements do I have to fulfil as a patient?
Many women have the desire to have larger breasts. However, breast surgery cannot always be performed or it is not advisable.
Against the implementation The following points can speak in favour of breast surgery in addition to medical reasons:
Minority
Physical condition
Planned weight reduction or current implementation of weight reduction
Planned or current pregnancy
Unrealistic idea of the change (e.g. too extreme enlargement of the breast in relation to the body).
Pre-existing conditions must be clarified in each individual case
Breast surgery mamma augmentation can help a woman feel more comfortable in her own body. However, the physical prerequisites and the general state of health must be checked extensively by an experienced specialist or aesthetic surgeon. This is the only way to minimise possible risks so that the best possible result can be achieved.
Nutzen Sie unsere Erfahrung für Ihre Brustvergrößerung